Risks Management & Forecasting
Simplify Risk Mitigation.
Focus on Growth.
Our platform saves you the hassle of worrying. Always be aware of risks to your farm with more proactive real-time management of fish health across your entire site. Spend less time worrying about what happens and instead spend more time forecasting more strategically to grow smarter, faster.
Visualize & Compare
Discover What Works For Your Farm Specifically
Not all farms are the same. Our benchmarking allows you to identifying specifically what is working on your farm and why. Our predictive analytics allows you to intimately know performance metrics, discover optimal products, and implement real-time recommendations.
Indentify Trends
Experience Full Visibility Across Farm Site Performance
We help you reduce the noise in your data. Get alerted instantly when trends on your farm are detected and get expert recommendations on paths forward. Access geographical trends around diseases, lice, fish weights, and more.
Build Data Confidence
Enrich & Clean Data to Reveal Your Farms Truest View
We take the most precise data sources in the Manolin Network and blend in all other available sources, reducing noise and correcting data along the way. This provides you clearer accuracy and coverage so you can trust your data and easily identify what's actually happening on your farm sites.
Watershed Tiers
Save 50 Fish

& Explorer Pays For Itself
Researcher
Anonymized Data Contribution
Eliminate manual data dumps for research.

Unlock value faster by obtaining study results within weeks, not years.

Submit your data to as many studies as you'd like to accelerate your farms performance insights and benchmarking.

Get personalized data results directly in your Manolin account once a study is completed.

Know your data is secured and will never be share without explicit approval from the data owner.
Explorer
Fully optimized farm management
Get all the benefits of Researcher.

Visualize and compare the history of your farms one one centralized standard tool.

Instantly benchmark all your sites performance to the industry & discover what inputs are performing sub-optimally and why.

Get live alerts and forecasts on a variety of production issues.

Easily compare trends and understand parasite and disease flow with our mapping tool.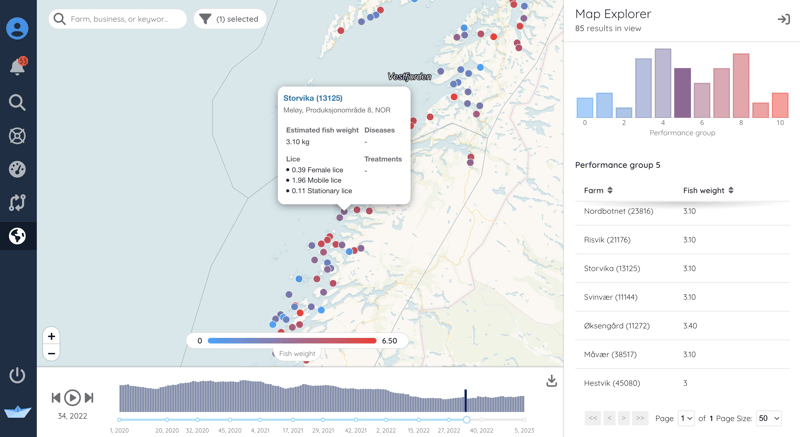 "Manolin's data intelligence platform has been instrumental in overcoming barriers such as reporting and insights. It enables us to unlock the full potential of our farm data, providing real-time visibility and empowering us to make data-driven decisions with confidence."
Get Started
What data insights will you discover next?
Easily start optimizing today